CfP: Sonderheft zum Thema "Advancing Research on Open Education"
21.03.2016
: Für ein Sonderheft der Zeitschrift "Journal of Computing in Higher Education", welches im Dezember 2016 bei Springer erscheinen wird, können noch bis zum 1. Mai 2016 Beiträge eingereicht werden.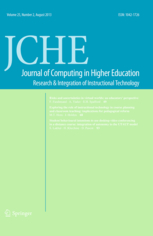 springer.com
"This special issue will focus on empirical research dealing with the advancement of the field of open education for postsecondary and adult learners. Papers should be theory-driven and results should be reported based on data and evidence. Conceptual papers contributing an integrated approach to open education are invited as well as systematic literature reviews related to the field.
Wide range of topics are included, but are not limited to the following instances:
Evaluation of MOOCs and OER implementations (Drop-out rates, measuring learning success, affective aspects...)
Learning Design and Conceptual Issues (Recommender systems, adaptation, personalization, Video development of MOOCs, MOOCs Desgin...)
Learning Analytics (Dashboards, assessment, Educational Data Mining, Process mining...)
Technological Aspects (HCI, Usability, Mobile Technology for MOOCs...)
Organizational Aspects (Business models, Support mechanisms for OER...)
Time planning:
Submission deadline: 1 May 2016
Review results: 1 June 2016
Revised paper submission: 15 July
Special issue published: December 2016"
Mehr Informationen zum Call können online abgerufen werden.
Gepostet von: phohls
Kategorie: Call for Papers
Kommentare (0)